The Chairman's Bao
Summary
The Chairman's Bao (TCB) is an online graded newspaper for learners of Chinese. New articles covering current events in China and abroad are published daily, and the difficulty levels range from HSK1 to HSK6+. Additional features include audio recordings, a pop-up dictionary, grammar notes, flashcards, and more. This is one of my favorite resources for studying Chinese.
---
The app is easy to use and the content is super useful.
The reading comprehension exercises, language tools, writing practice and massive library of news stories make up for the lack of English translations.
For how much this resource has to offer, it's well worth the price.
I Like
The articles are genuinely interesting for learners of every level
The reading comprehension exercises
They are constantly publishing new content
I Don't Like
There aren't English translations of full sentences
Price
A subscription to The Chairman's Bao costs $10/month or $80/year, with three and six-month options at $25 and $45 respectively.
Use the coupon code 'alr10' to save 10% on a subscription to The Chairman's Bao.
Overview
The Chairman's Bao (TCB) is an online graded reader that uses news stories to teach Chinese — it's available online, for iOS and Android.
It features news articles that are rewritten and simplified for learners of Chinese. Each article is graded and categorized by difficulty level, ranging from HSK 1 to HSK 6+. As you progress to more advanced material, the articles get longer and more complex.
There's a ton of content; new articles are released daily, and they're actually interesting.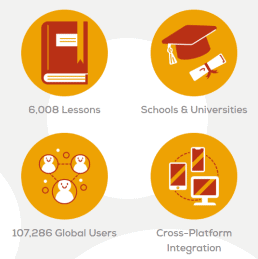 Content
Interesting, engaging material is worth a lot when it comes to learning a language. You could buy the greatest, most detailed and clearly-written textbook on Chinese in existence and still struggle to learn the language.
This isn't to say that textbooks or drill-centric apps like Pleco, Anki, and Memrise don't have their merit, but including practice that helps you engage with the language in a more meaningful way can be worth a lot.
TCB does a great job of curating interesting content — it's enough to increase motivation to study, and learning words in a memorable context makes it easier to commit them to memory.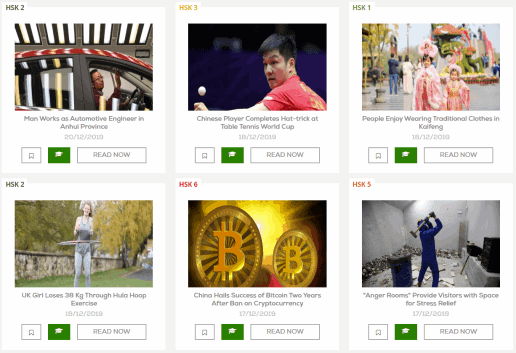 There are more attention-grabbing titles than I could ever list, but some favorites include "Chicken Headwear Takes Off for Year of the Rooster," "Indonesian Man Builds Helicopter to Avoid Traffic," and "Peruvian Man Marries Tree."
Don't worry, it's not all fluff and silly titles. The mammoth library of news stories covers plenty of more serious topics as well. Most articles are related to current events in China, but world news is also covered.
The amount of content is an area in which TCB really tops its competitors. The backlog is huge, and there are new articles posted every day. There's enough new material each week that you won't have to dig into the older posts if you don't want to.
The fact that TCB is able to create interesting content for HSK1 and HSK2 levels is really amazing and can make learning the basics engaging and fun. They do a great job of producing shorter and simpler articles that are still worth reading.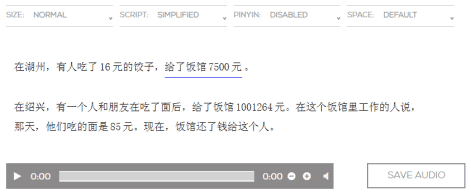 The above is an example of an HSK1 news article. It's worth noting that even these low-level articles may be too difficult for some beginning students of Chinese.
If this is too difficult, I'd recommend starting out with other materials before transitioning to TCB after a few months of study.
Where TCB really shines is with its more advanced content, which is longer and even more interesting. For learners that have reached an upper-elementary or intermediate level, native-level material will still be too complicated, but you'll be able to find plenty of accessible and stimulating content around the HSK4 level and higher.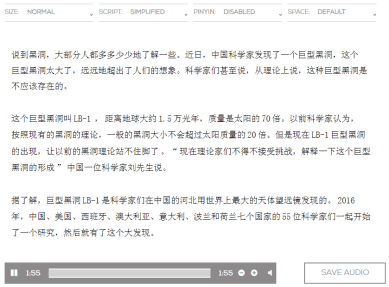 This is an example of an article at the HSK4 level. Articles at this level and higher can give great insights into Chinese culture and current events.
App Layout and Design
Both the online version and the app are easy to use. With each, you can search for articles and sort by level, date, and topic.
The mobile app has five main pages: Home, Lessons, Videos, Legends, Bookmarks, the Learning Hub, and Blog. Here's what the home screen looks like:
From the home screen, you can navigate lessons by level or search all lessons.
This is the lessons page. From here, you can browse all of the lessons (the most recent are at the top) or you can apply filters to only see specific levels, dates, or topics.
This part of the app is especially well-done and makes for a positive user experience. Scrolling through lessons that have English titles and pictures makes it easy to quickly find something you're interested in.
The graduation cap icon signals that the lesson has comprehension exercises (more on these later), and you can bookmark lessons by selecting the red icon.
This is the "Learning Hub" page on the mobile app. As you're reading an article, you can save words that you want to remember or that you find difficult and they'll show up here. You can also practice these words with the flashcard feature. We'll talk more about this in the next section.
This is the most straightforward section of the app; it's where bookmarked lessons live.
The user settings section is also pretty straightforward, and I like that they included a dark mode feature.
Overall, using the app is a good experience. It's intuitive, it looks good, and it isn't really missing anything.
Use the coupon code 'alr10' to save 10% on a subscription to The Chairman's Bao.
The Chairman's Bao Language Tools and Features
Audio
There's an audio component to each lesson, which enables you to develop your listening skills in addition to reading.
The controls on the bottom row allow you to play, pause, stop and seek forward or backward by five seconds. There are also speed controls that speed up or slow down the audio. This is a really nice touch.
Pop-Up Dictionary
Touching any word in an article will display the word's pinyin, English translation, and an audio recording. It also highlights every appearance of the word in the text and gives you the chance to add it to the Learning Hub or practice writing. Words are color-coded green when saved to the Learning Hub.
This is a nice feature, but it's also where the app falls just a bit short. If you're just starting out or trying out a level that's difficult for you, you could easily look at the translation of every individual word in a sentence and still not understand the sentence.
It would be nice if TCB offered English translations of the entire article that you could refer to. One resource that does offer sentence translations is Du Chinese.
Language Explanations
Another helpful component of each article is this list of language explanations toward the bottom of the screen. You'll find a list of keywords and their definitions, some grammar explanations, idioms, and a list of proper nouns.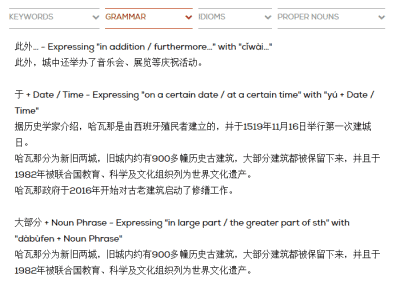 There are better ways to study grammar, but TCB's grammar explanations use examples from the text to teach different concepts and are actually pretty good. It's a nice feature that adds some extra value to the resource.
Character Stroke and Writing Practice
This feature adds a lot of value to TCB. While learning to write characters by hand isn't a high priority for many learners, having it readily available through the app makes it more accessible than paying for practice through a resource like Skritter (even if Skritter is a more thorough and robust option).
TCB offers writing practice by showing an animation of the correct stroke order and then giving you the opportunity to trace the character with your finger in the correct order.
Reading and Listening Comprehension
To test your reading skills, you can take a three-part comprehension test on the vast majority of articles. This feature was introduced in September 2017, so articles posted before this date don't have the tests.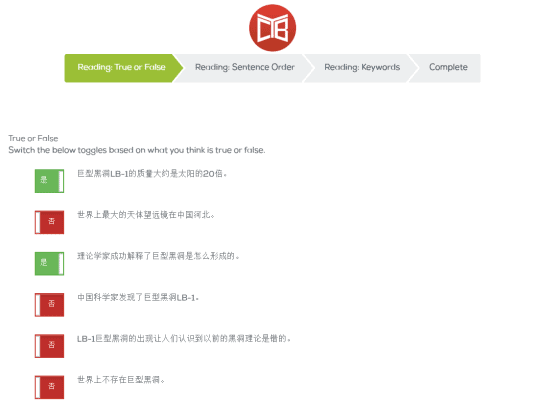 This first exercise has you mark sentences as true or false based on the article you just read. As with all of the comprehension checks, the design is slick and easy to use.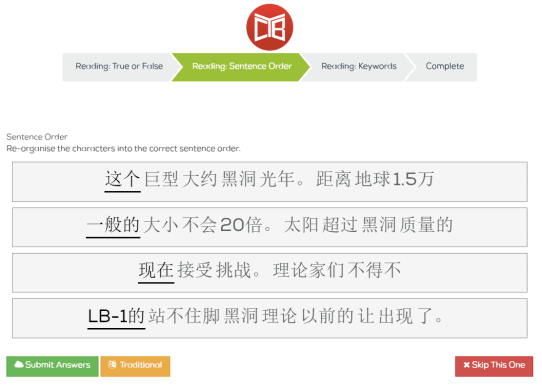 The second test has you re-arrange sentences so that they're in the correct order.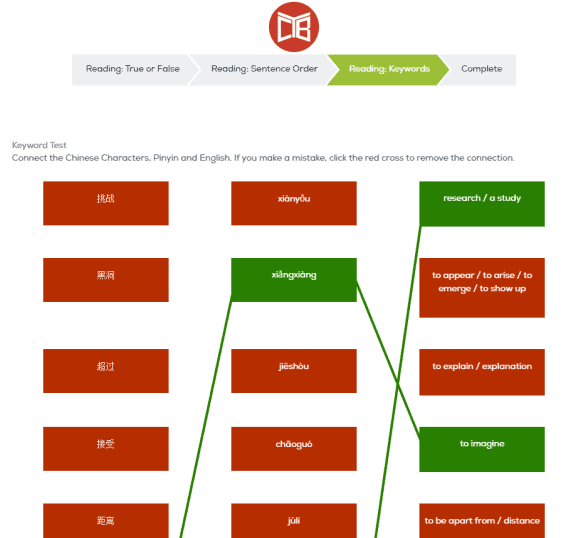 The final quiz tests your understanding of keywords from the text. You've got to match the character to the Pinyin to the translation.
For some readings, the tests are slightly different, including a grammar element and a question & answer activity.
There's also a listening comprehension function in many of the lessons which presents comprehension questions after you've listened to the lesson without any text.

Frankly, I think the comprehension activities are great. It elevates the resource from just providing interesting content at a suitable level to also providing structured practice related to the content.
Also, these exercises are totally optional — you don't have to complete them in order to progress.
Flashcards
The flashcard feature accomplishes what you'd probably expect it to and not much more.
First, you choose what you want to be tested on. If you select Pinyin, you'll be shown Pinyin and need to come up with the corresponding Mandarin and English.
After revealing the answer, you self-assess and mark yourself correct or incorrect. Once you've gone through all of the words in your word bank, you'll see your score.

Video Lessons
TCB also has video lessons for beginners at the HSK1 and 2 levels.

The videos are a decent way to practice listening skills and add a nice multi-media touch to the app, but they're reminiscent of clipart and aren't especially mesmerizing.
There's no transcript to follow along with, but you will be able to see relevant keywords, grammar points, and proper nouns.
The Legends Series
The lessons in the Legends Series are based on historical folk tales and myths and are suitable for learners at HSK levels 2-5.

Aside from the context, these lessons function just the same as the others; you can read along, listen, use the pop-up dictionary, and then participate in reading and listening exercises upon completion. I really like the addition of these as they provide a ton of insight into Chinese culture that few other resources are able to.

Pricing
A subscription to The Chairman's Bao is available for $10/month, $25/three months, $45/six months, $80/year, or $140 for two years.

Alternatives
The Chairman's Bao is one of the best graded-reading resources out there for learning Chinese, but it's not the only option. The best alternative would be Du Chinese. Although they release less content, it's a bit better for beginner students.
We did a full comparison of them, but trying them out for yourself would be wise.
You can also find a huge list of 130+ resources for learning Chinese here.
Final Thoughts
The Chairman's Bao is one of the best resources out there for learning Chinese. It makes learning accessible, interesting, and practical.
Naturally, supplementing your study with other resources won't hurt, especially with extra grammar help. With that in mind, it's hard not to feel like this one's a gem. Try out some alternatives to see which is right for you, but be sure you consider The Chairman's Bao.
Use the coupon code 'alr10' to save 10% on a subscription to The Chairman's Bao.