Babbel vs Rosetta Stone – Two Titans in Language Learning
Babbel and Rosetta Stone are two of the most popular language-learning apps in the world. Most people looking to get started studying are likely to have come across these two programs early on in their search for the course they want to use.
The quickest way to describe the similarities and differences between these two platforms would be…
Babbel is a little cheaper and includes explanations and translations in English whereas Rosetta Stone uses your target language almost exclusively. Babbel teaches using longer dialogues and Rosetta Stone uses more individual sentences.
Both platforms have well-structured lessons that build on each other but can get too repetitive. The voice recognition software for both is only okay and not too reliable. They teach several different languages but aren't the best for learning about different cultures.
If I were choosing between just these two options, Babbel would definitely be my preference and recommendation.
That said, there are far more resources to consider than just these two platforms. I can't list them all here because my recommendations would vary depending on which language you're learning.
To see all of our favorite programs, online subscriptions, apps, podcasts and YouTubes for the language you're learning, look for your language in the table below.
MOST RECOMMENDED RESOURCES BY LANGUAGE
What I like about each program
Babbel
Grammar is explained clearly with lots of examples.
It uses conversational language that you're likely to use in real life.
There is a decent variety of exercise types.
High-quality audio.
Nice layout and design.
Rosetta Stone
It can make it easier to translate less in your head.
High-quality audio.
Nice layout and design.
What I dislike about each program
Babbel
The voice recognition software can be frustrating.
Repetitive exercises aren't very unique.
You'll need to use other resources alongside Babbel to get conversation practice.
Rosetta Stone
Repetitive exercises revolve around matching pictures to words.
It's more monotonous than most other platforms.
It's more expensive than most alternatives.
Trying to convey all the information from images alone can lead to unnecessary confusion when a simple explanation in English would work much better.
It's not going to get you speaking fluently as fast as some other platforms.
Languages available
Rosetta Stone has courses available in 25 languages and Babbel has courses in 14 languages.
For Babbel, the languages are – German, Spanish, French, Italian, Portuguese, Swedish, Turkish, Dutch, Polish, Indonesian, Russian, Danish, Norwegian, and English.
For Rosetta Stone, the languages available can be found in the image below:
Cost
With Babbel, you can subscribe either with a one-month plan for $12.95, a three-month plan for $26.85, six months for $44.70, or a yearly subscription for $83.40.
A subscription to Rosetta Stone costs $35.97 for three months with access to one language, $179 for 12 months and access to all languages, or $199 for lifetime access to all Rosetta Stone language courses.
How languages are taught on each platform
Babbel
Babbel's lessons are a pretty good way to get started, but they're far from unique. Most, if not all things they do, can also be found within other language learning platforms.
They start with a speaker reading the important words you'll need to learn with images next to them.
After that, you'll listen to and repeat the words using their voice recognition software which then gives you a grade based on how accurate your pronunciation was. It's nice that it encourages you to get speaking aloud, but the technology isn't good enough that you can trust it on its own to know if your pronunciation is alright.
To get good feedback on your speaking, I'd recommend finding a tutor on italki – it's often less than $10/hr.
From there, you'll match the translations to the pictures. Next, you'll write the translation that corresponds to each image using the mixed up letters you're given.
These aren't terribly exciting exercises, but the repetition is helpful.
Following this, the words come together to form sentences and finally a dialogue. You'll fill in the blanks with the correct word to complete the sentence. This is pretty simple since you're given the mixed up letters.
The dialogues are very natural and are the type of conversation you would actually have in real life. The quality of the audio is also quite good and it's spoken clearly.
You'll also find grammar lessons that clearly explain things here with pop-up notes to explain some key points. I think this is a major advantage over Rosetta Stone. Grammar may not be the most exciting thing, but learning it can make things so much easier.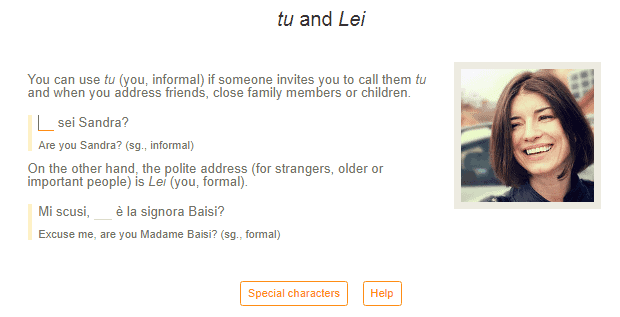 There are also review exercises after every couple of lessons.
Babbel's strengths aren't in that they're doing anything exceptionally innovative. Instead, they excel in providing well-structured courses, clear explanations, and a variety of ways to practice the content.
Read our full review of Babbel.
Rosetta Stone
Babbel's lessons aren't the most exciting or varied, but Rosetta Stone's are even less so.
The key differentiating factor that makes Rosetta Stone different than other language learning courses is that uses your target language almost exclusively. Their philosophy is basically that young children learn languages from immersion and that you should as well.
I tend to disagree with this idea. Adults are much different than young children. We have some advantages that children don't have, and ignoring these makes language learning harder than it needs to be.
The lessons on Rosetta stone, while they include various skills such as listening and writing, are very repetitive regardless of the content. Using Rosetta Stone basically amounts to a long stream of matching pictures to words or sentences.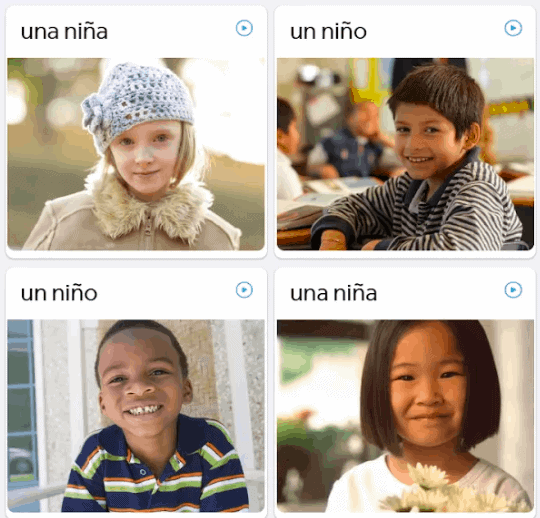 This works alright for teaching a lot of vocabulary, and even simple grammar points. But, not all vocabulary is easily understood from pictures alone. This is even worse when it comes to grammar. While some simple grammar points are easily understood this way, learning more complex grammar like this will likely leave the learner confused. A quick explanation in English could erase a lot of that uncertainty.
I like how the audio is included with each picture, that they use different speakers, and that the audio is very high-quality. There are also writing exercises which are definitely helpful.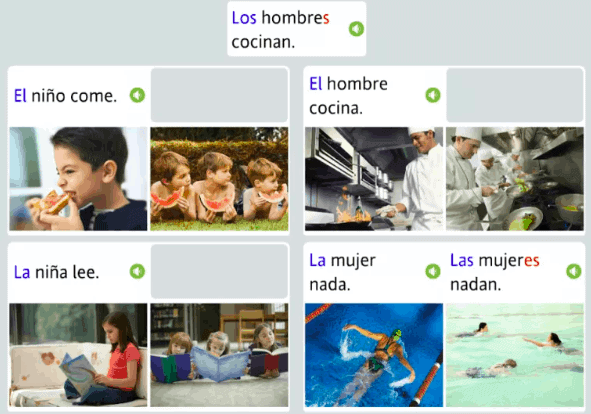 Similar to Babbel, I like how they encourage you to practice speaking and use voice recognition software. But, Rosetta Stone's voice recognition software isn't great either. Depending on it alone to gauge your pronunciation wouldn't be advisable.
One major issue with Rosetta Stone is that the lessons are too repetitive. I could easily see learners getting bored with the platform and eventually giving up on learning a language.
The other big issue is that I don't think the benefits of removing translations are worth the tradeoffs. Sure, it might encourage you to rely less on performing translations in your head. But, translating in your head as a beginner isn't a big deal — even if you need to do this when you first start, you'll eventually get better at automatically recalling words and ideas as you improve.
In my opinion, the short-term gains associated with avoiding translations just aren't worth giving up the English explanations that would make the language you're learning much easier to understand.
Read our full review of Rosetta Stone.
Final thoughts
Although Babbel and Rosetta Stone are among the two most well-known language learning resources around, neither are amazing nor would they be my top recommendations to new students. They each have their pros and cons, but depending on your proficiency level or the language you're looking to learn, making your choice may be tricky. We recommend an alternative Rosetta Stone vs Babbel comparison that's well-researched and just as informative to help make your choice a lot easier.
But, if I had to choose, I would definitely choose Babbel. It's a bit cheaper but also has a little more variety in lesson exercises. The fact that they also include grammar explanations in English will make your life much easier and remove a lot of doubt that you might otherwise have.
Still, before committing to either of these courses, I'd recommend seeing what else is available in the language you're learning from the links in the table below.. It shows all of our favorite programs, online subscriptions, apps, podcasts and YouTubes for the language you're learning, look for your language in the table below.
MOST RECOMMENDED RESOURCES BY LANGUAGE