RussianPod101
Summary
RussianPod101 is a fantastic resource that has hundreds upon hundreds of video and podcast lessons on offer. These take you all the way from learning your first word in Russian right up to an advanced level and so beginners and intermediates, in particular, will certainly learn a lot. While the course delves deep into Russian grammar, vocabulary and the cultural context of the language, the lack of speaking and writing practice means you would have to use it alongside another resource.
---
While the platform is a bit confusing to navigate, the lessons are very well put together.
There is an almost endless array of material for you to work through and in general, explanations are very clear and concise.
I'd say that RussianPod101 is very good value for money considering just how many lessons you gain access to.
I Like
RussianPod101 really does have a lesson for every imaginable situation and so you can learn important words and phrases for every scenario.
There is a clear progression in terms of difficulty from the Absolute Beginner level up until the Advanced level
You get to hear a wide range of native speakers and a lot of the material introduces you to various aspects of Russian culture.
I Don't Like
I found the platform quite confusing to navigate and so it often took a while to get where I wanted.
The material could be a bit more engaging as you are never really asked to use the Russian you've learned.
The lack of speaking and writing practice means you would have to use it alongside other resources if you wanted to get fluent in Russian.
Price
For the Basic subscription it costs $4/month $10 for premium a month and $2/ for premium plus
Use the promo code "ALLLANGUAGERESOURCES" to save 25% on a subscription to RussianPod101.
Having previously tried out PortuguesePod101 and come away thoroughly impressed, I was very intrigued to see whether RussianPod101 was any good as I was hoping to learn a bit of Russian before going away on holiday. After using it for a bit, I could immediately see that it had the same positives and negatives as the Portuguese version.
On the positive side, RussianPod101 has an incredibly vast catalog of lessons for you to work through and these not only cover almost every topic imaginable but also progress in difficulty.
The lessons give you an in-depth look at Russian vocabulary, grammar and the cultural context in which they are used and both beginners and intermediates are sure to get a lot out of using RussianPod101.
On the downside, you don't get very much reading and speaking practice and, as you are asked to produce very little, a lot of the course then relies on you memorizing everything rather than reproducing it in a natural manner.
As such, you'd almost certainly have to use RussianPod101 alongside another course, podcasts, YouTube channels, or with a tutor where you could get some conversation practice.
All in all, I'd definitely recommend checking out RussianPod101 as there is just so much material for you to work through and this could easily take you to an intermediate level if you put the time and effort in.
Overview of RussianPod101
RussianPod101 has an almost endless catalog of audio and video lessons for you to work through. While earlier lessons are conducted mostly in English, the amount of Russian used steadily increases as you go until the later lessons have absolutely no English at all.
The number of lessons at each level really varies and at the Absolute Beginner level, for instance, there are 184 lessons for you to work through! These usually last around two to eight minutes in length and so you can cover quite a lot of new material in a short amount of time.
Once you have worked through the various levels, you'll eventually come to the Advanced level which has 79 lessons.
While these lessons are shorter at just two to three minutes in length, they are completely in Russian and so cover quite a lot of vocabulary. In general, the earlier lessons look more at particular grammar and vocabulary points while the later ones really do give you an in-depth look at Russian culture.
There are a couple of different ways which you can work through all the material on RussianPod101 and you can either follow the set structure and chronology of each level or subscribe to some of the various 'pathways'.
These pathways include varying numbers of lessons and each one of them focuses on a particular grammar point, subject or vocabulary list that you may want to improve.
Confusingly enough, however, a lot of the lessons are included on a number of different pathways and so you may at times come across a lesson you've already done.
This leads to one of the bigger weaknesses of RussianPod101. Although there are pathways, the structure isn't as clear and logical as you would find in a textbook. So, it'd be best to be used as an additional resource and not a standalone course.
In addition to the main video or audio which forms the basis of the whole lesson, each one is accompanied by lesson notes, a transcript and, from time to time, a line-by-line dialogue for you to follow with translations and audio files of each word or phrase for you to play.
A short quiz is also included below the main video or audio. Unfortunately, however, there aren't other exercises and a lot of emphases is placed on you creating your own word banks and using the endless vocabulary lists to memorize words and phrases you come across.
Getting Started
Getting started with RussianPod101 is very easy and you can be learning your first words in Russian in just a couple of minutes.
After selecting your level and creating your account, all you need to do is go to your email and activate it. Once you log in, you are immediately offered a one-time special deal for their subscription packages and unfortunately, you'll come to see that RussianPod101 really spams your inbox trying to get you to sign up for their platform.
After almost certainly declining this offer given the fact that you've never tried it out before, you come to your 'home page'.
While it doesn't look particularly nice or very well-designed and usually has at least a couple of ads, deals and offers for signing up to RussianPod101, it actually hides some pretty well put together lessons.
If you put your level at 'Absolute Beginner' as I did, you'll then already have been added to the 'Mastering Level 1 Russian' pathway which serves as an introduction to the language.
The first few lessons introduce you to Russian grammar, pronunciation, and writing as well as the language in general. The two hosts try and allay any fears you might have about Russian being a complicated language to learn.
They give you a wealth of reasons why you should learn Russian and they bizarrely include the fact that learning another language can help prevent you from getting Alzheimer's. While I'm sure people have a million and one reasons for learning Russian, I'm pretty sure this isn't one of them.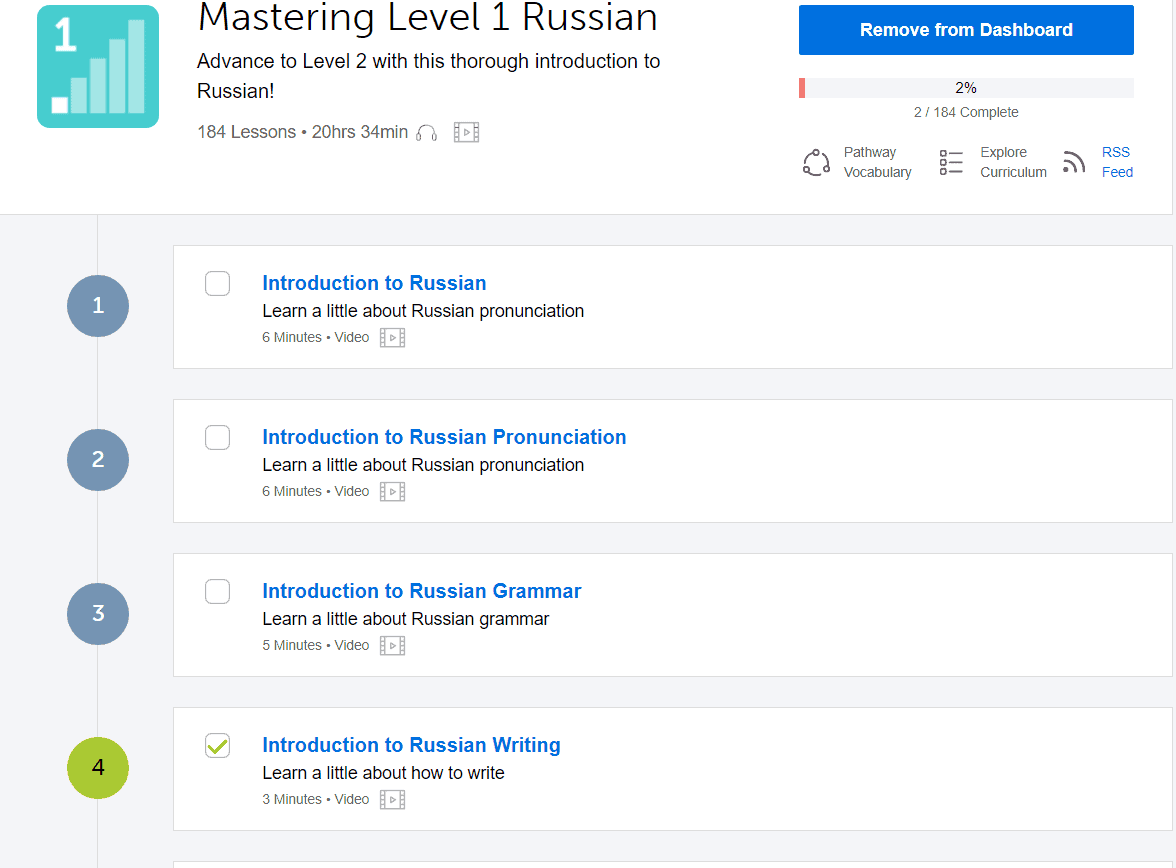 The lessons all take the form of videos and in general, they're quite well done. The two hosts – Alisha, who I assume is American and, Katya, a Russian – take you through the material in a clear and concise manner.
In addition to this, you'll also find lesson notes and a transcript of what they've said and gone over included below the video.
In some cases, they also have the vocabulary and phrases they've gone over listed below with the words written in English, the Cyrillic alphabet and also with the Russian words written in the Roman alphabet which is of course super useful if you're new to the language.
You can also click on the 'play' button next to them and then hear how the words and phrases are said by a native Russian speaker.
Even though the lessons are predominantly in English (at least at this early level), you do learn quite a lot quite quickly. In the third lesson, for example, you learn how basic Russian sentence structure works, how to turn a sentence into the negative and how to ask a question, all in four minutes!
At the end of each video, they give you a quick lesson recap which I found quite useful.
If at any point you find the material to be too easy, you can always move on to a different learning pathway and RussianPod101 has lessons for all levels ranging from Absolute Beginner all the way up to Advanced.
Now that we've had a look at what some of the early lessons of the Mastering Level 1 Russian pathway look like, let's see what some of the later lessons cover and what they look like.
Use the promo code "ALLLANGUAGERESOURCES" to save 25% on a subscription to RussianPod101.
Audio and Video Lessons
As you continue to explore the RussianPod101 platform, you'll find an almost endless array of pathways that all focus on helping you achieve a particular goal.
There are some that teach you to read and write, for instance, some that look at Russian grammar and yet others still that look at various aspects of Russian culture.
There really is an impressive amount of material on offer and it's really up to you what you decide to focus on. It can be a bit confusing navigating the platform however as lots of the lessons appear on different pathways and you may have to click around a little before finding what you're looking for.
While the earlier lessons generally look at particular words or useful phrases that you'll come across in Russian, later lessons offer up a more in-depth look at how the language actually works and more of the lesson time is in Russian rather than English.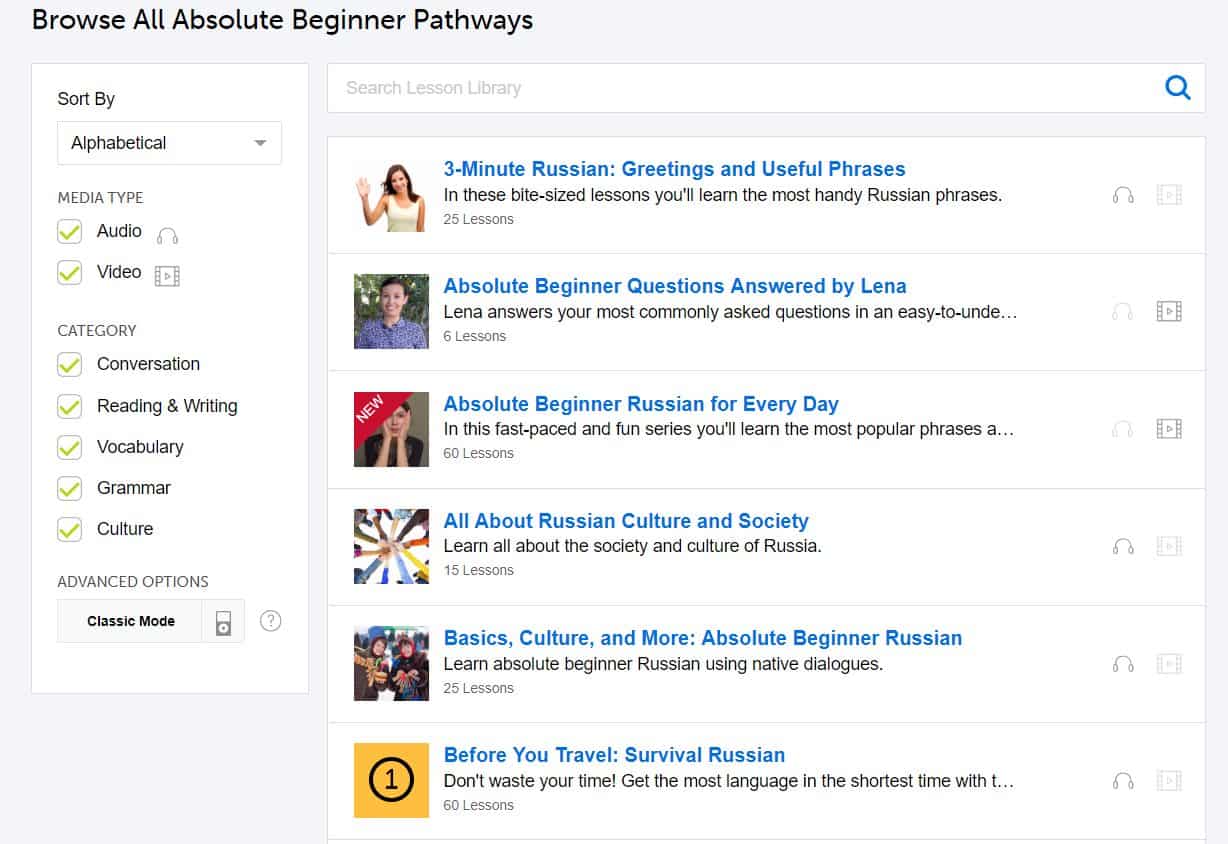 At the intermediate level, for instance, the presenters usually introduce the topic for that particular class before a dialogue completely in Russian plays.
After you've heard the dialogue played at a normal speed, you then hear it again with the English translation coming up after each spoken sentence.
The presenters then take you through the cultural context of the topic you're looking at and this is great as you get to learn a lot about Russian history and culture.
Following this, there is then an in-depth look at the vocabulary and grammar covered in the lesson and the accompanying lesson notes are always very clearly laid out and easy to follow.
While some of the lessons come in video format others take the form of an audio podcast and are generally very well produced. Some of the hosts are more natural presenters than others with some of them sounding like they're reading off of a script.
Below the video or audio, you'll always find lesson notes or a transcript to help you out and you can download these as a PDF if you want to access them while offline. Some cultural insights are often included alongside what you've covered in the lesson.
You can also do a short quiz to see which vocabulary you've retained and whether you can remember how to write the words in Russian.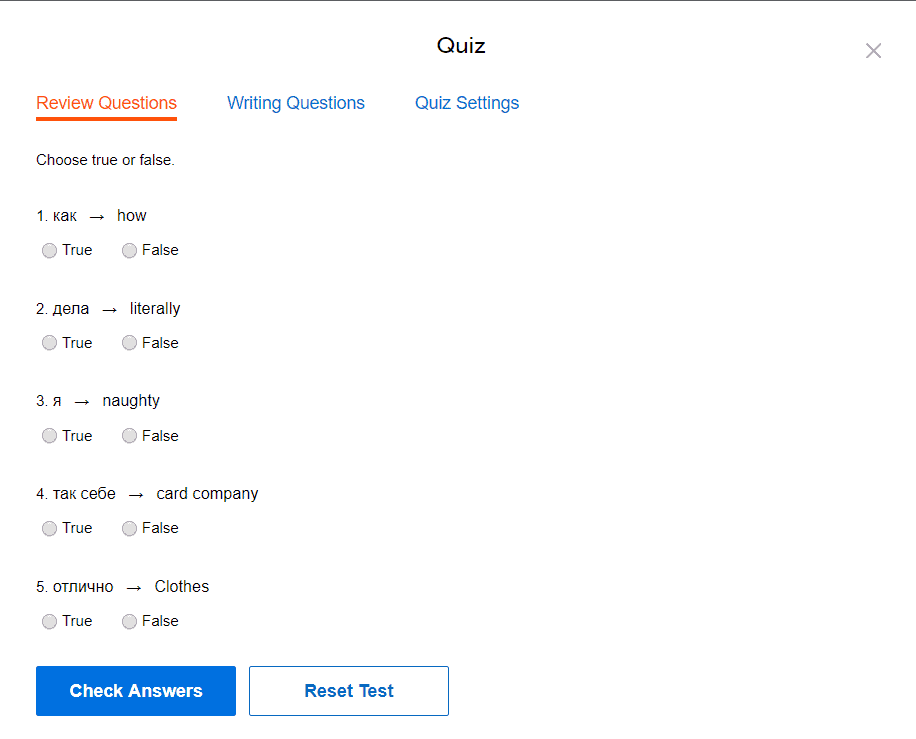 While some platforms don't do the move from Beginner to Intermediate and on to Advanced very well, RussianPod101 makes sure that the lessons progress slowly in difficulty and so you should never feel too out of your depth.
The Advanced lessons for instance present yet another step up as absolutely everything takes place in Russian.
Thankfully, these lessons are much shorter than the intermediate ones and are usually around three to four minutes in length. You obviously cover a huge amount of material though with everything being in Russian.
In these advanced lessons, you generally listen to a native speaker talk about a particular topic that has to do with Russian culture and they really do cover a very wide range of subjects such as Tchaikovsky's influence on Russian music, how to order office supplies and about various post-Soviet countries.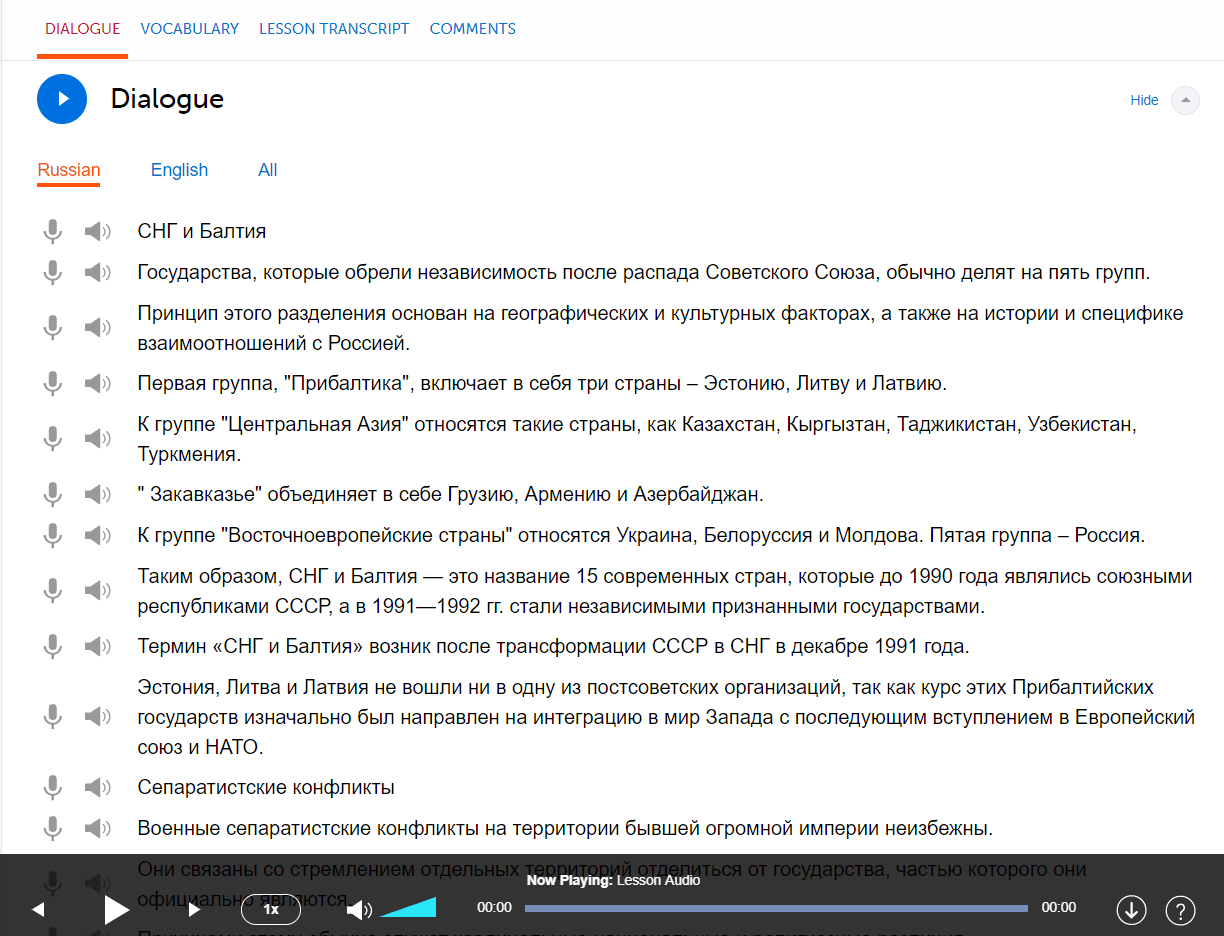 In addition to all of the hundreds upon hundreds of lessons (possibly even thousands), RussianPod101 has a number of other features that can help you on your language learning journey.
There are a similar number of vocabulary lists for you to access and these again look at almost every imaginable topic under the sun.
The lists introduce you to various useful words and phrases and they again come with the sentences written in English and the Russian written both in the Latin and Cyrillic alphabet. Usefully enough they also have audios of all of the words and phrases so you can hear how they are pronounced in Russian.
Another useful feature is that you can actually create your own word banks of words which you want to learn and each sentence, phrase or word you come across on the platform can be added to whatever word bank you want.
As you can see, a lot of time and effort has gone into producing everything and there really is tons and tons of material for you to work through.
The endless lessons and vocabulary lists cover almost every imaginable subject and you'll certainly learn a lot of vocabulary and grammar through using RussianPod101 while your reading, comprehension and listening skills will also improve.
Another fantastic aspect is that each lesson has a wealth of valuable information on Russian history and culture for you to delve into. The progression in difficulty from Absolute Beginner to Advanced is also impressive to see as this is important for learners progressing.
While I certainly think that it is well worth checking out for anyone interested in learning Russian, there are a couple of areas in which RussianPod101 could do a bit better.
For instance, there are hardly any exercises for you to do and this means that there are very few ways in which you can engage with the material. As such you can watch and listen to all the videos and audios you want but you'll still most likely have to resort to memorization and vocabulary lists to retain the information.
Another issue is that most of the lessons take the same format and although they are very well done, you're almost certainly going to get a bit bored listening to your 201st RussianPod101 audio.
While listening makes up quite a large part of the lessons, writing and speaking take a backseat. Indeed you're never actually asked to produce very much and so following the lessons can be a bit passive if you're not careful as you're never actually asked to say the words you're learning out loud.
Other than the forum (which seems to have died), there is no way to engage with any other students and you would only actually get to practice speaking Russian if you signed up for the Premium Plus plan where you can then access a teacher. This, unfortunately, means that you are very unlikely to ever attain fluency through solely using the RussianPod101 platform.
Consequently, you'd almost certainly have to use it alongside private lessons with a teacher ( I recommend italki) where you could practice speaking and pronouncing Russian. For vocabulary, grammar, reading, listening and understanding, however, I can certainly recommend RussianPod101 and you'll learn all that while learning Russian in its amazing cultural context.
Plans and Prices
If you want to try out RussianPod101 for yourself then you can easily sign up for their week-long free trial in just minutes and this will gain you access to all the material on the platform.
From then on you will be inundated with emails cajoling you and imploring you to sign up for one of their subscriptions. This really is one of the only downsides to RussianPod101 and I'm not sure why they do it as they really do have a great product.
With the Basic plan, you'll gain access to all of the audio and video lessons, the in-depth lesson notes that accompany them and a list of 100 key words and phrases in Russian.
Both the Premium and Premium Plus plans get you quite a bit more. In addition to this, you can then access the line-by-line audio dialogue feature, create your own word banks and access voice recording tools, grammar banks, and interactive lesson quizzes. On top of all that, you also access absolutely loads of vocabulary lists, a massive database of 2000 core Russian words and phrases and the new lessons which are added daily.
Premium Plus differs slightly from Premium as it also gets you access to a native Russian teacher, a personalized learning program and ongoing professional assessment which involves you getting various weekly assignments.
Each of these subscription plans is cheaper the longer you sign up for.
As such, instead of being $8 for the Basic plan if you pay month by month, it then drops to just $4/mo if you sign up for two years straightaway (a bit of a commitment I know!).
This similarly happens for the Premium plan which drops from $25/month to $10/mo and for the Premium Plus which drops from $47/mo to $23/mo for two years access to all the material.
In addition to those subscription durations, you can also sign up for three, six and twelve-month if you so wish.
Personally, I think the Basic plan would be well worth checking out if you are a beginner or intermediate learner as you would definitely learn a lot for just $8 a month.
As the video and audio lessons and the lesson notes that accompany them really are the most important part of what's on offer, you really don't need all of the other features that come with the other subscription plans. While the list of 2000 key words and phrases and access to all of the endless vocabulary lists would be nice, the vast majority of extra features aren't worth paying for.
As such, I'd recommend trying RussianPod101 for a week during the trial period and then maybe signing up for the Basic plan if you find the material useful and the learning method appeals to you. You would however still have to use it alongside other resources that get you actually speaking and writing Russian.
Final Thoughts
RussianPod101 is a great resource if you're looking to learn Russian and it is unlikely that you'll find such an extensive range of lessons on any other platform. The lessons steadily progress in difficulty and along the way the native speaker presenters will teach you all the grammar and vocabulary you could ever wish to know.
While the content is very well thought out and the various pathways and levels are fairly well-designed, I think there could be a bit more variation in terms of how you interact and engage with the material.
This is because you are never really asked to produce anything and, coupled with the fact that you don't get to practice speaking or writing, this does mean you would need to get more practice elsewhere.
It is, however, a fantastic resource for a number of other reasons. You will definitely improve your reading, listening and comprehension skills while also learning lots of key grammar points, words, and phrases, all in the context of Russian culture.
As RussianPod101 has a generous week-long free trial available, you can easily sign up for an account and try out all of the interesting and informative lessons for yourself before deciding on whether to sign up to one of their subscription plans or not.
With so many lessons for you to explore and so many different topics for you to delve into, RussianPod101 is one of several Russian courses worth considering.
Use the promo code "ALLLANGUAGERESOURCES" to save 25% on a subscription to RussianPod101.